Origin of Kiritanpo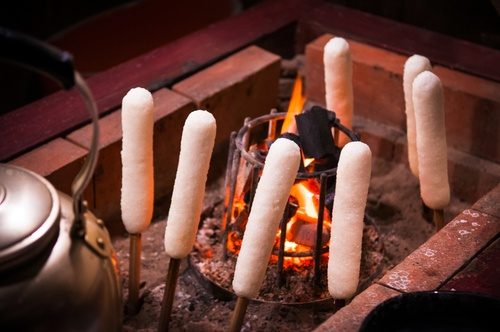 There are many stories that explain when and why it was created. To begin with, it originates from the Hokuroku area in Odate city in akita prefecture. It is said that, in the old times, this was a meal of hunters and woodcutters because it was portable and pretty easy to make. They used to knead the leftover rice, put it into the tori-nabe (chicken pot), or add miso paste on them.
Other versions tell us about Matagi hunters, who supposedly made this dish by grilling leftover rice.
We can say that Kiritanpo is a true signature dish of japanese food.


Ingredients of Kiritanpo
The main ingredient of kiritanpo is rice. It should be the one from the new harvest. Salted water is added to it later.
The next thing that is required in order to make this dish are 30cm long cedar sticks. These ones are the best, although sticks made of other kinds of wood can also be used.
Miso paste is optional. Based only on its ingredients, you can conclude that it's not so complicated to make this dish.
How kiritanpo made
This dish is usually cooked at home, and there are different variations of recipes for kiritanpo. Rice should be hard-cooked before transferred into a mortar, where it's mashed. After that, it's wrapped around the cedar sticks. 0-5-1cm of thickness should be perfect.
It's very important to mash it properly, otherwise, the rice will crumble from the sticks.
Then, the sticks with rice are grilled and optionally topped with miso paste.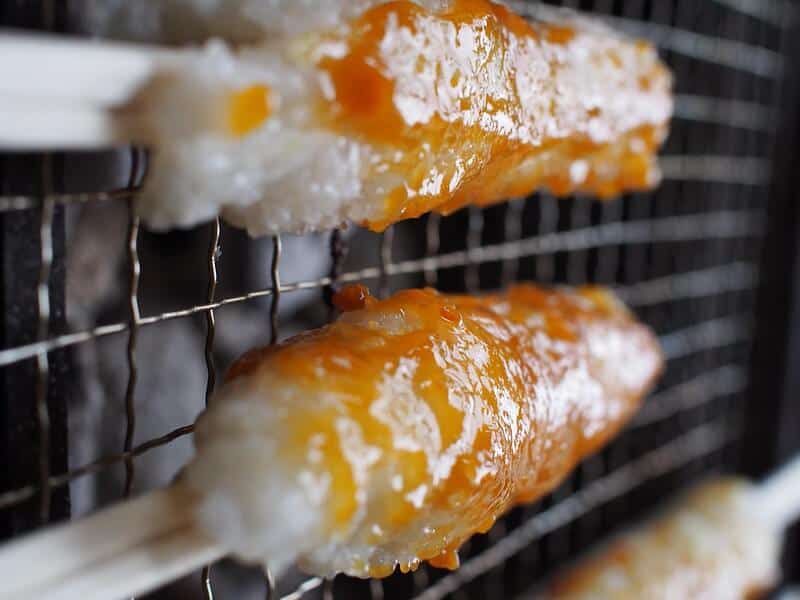 When and where should you try it?
If you are in Japan, I highly recommend trying kiritanpo that is traditional food in Japan. It's very popular among Odate's inhabitants, so you won't have trouble finding a good restaurant that serves this tasty traditional meal. Probably the best time for it is autumn when the new rice is made. There are many events where kiritanpo is served with hinaijidori chicken(one of the famous chicken breeds in Japan) because it's usually a part of every local festivity.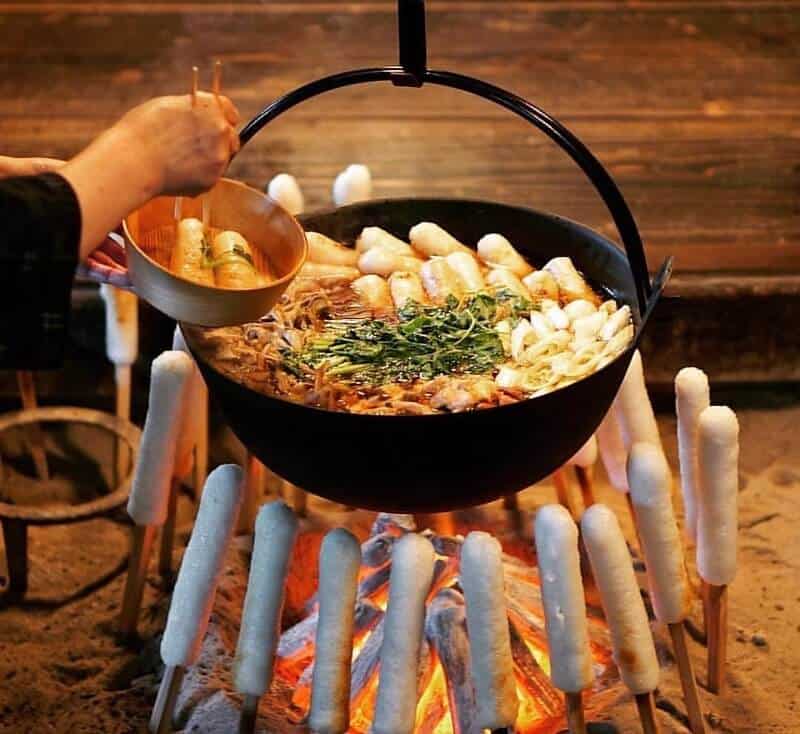 Kiritanpoya restaurant
As its name suggests, this restaurant specializes in this dish. It is said to be the best restaurant in Akita that serves Kiritanpo. The restaurant is located outside the Akita JR train station. When you pass the bus terminal, you will easily see it on the west exit. As soon as you enter it, you will feel the real spirit of the Japanese countryside. There are even fake rice fields and flickering fireflies inside. In front of you, there is a traditional fireplace, where fresh kiritanpo is made. If you have never tried it before, I suggest you order nabekko, a hot pot version of this dish.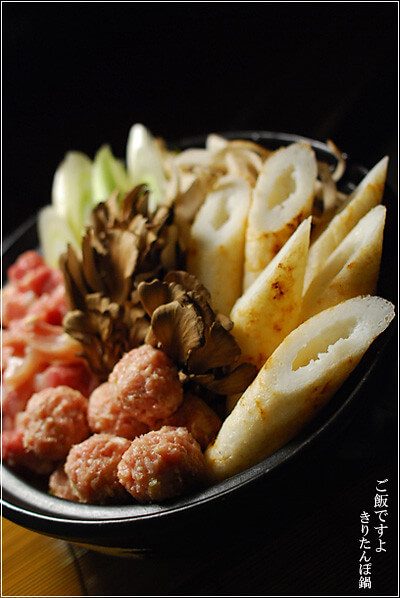 Kiritanpo in nabekko is served sliced, in rich chicken broth mixed with dark soya sauce or Japanese wine, alongside slices of meat, vegetables, and maitake mushrooms. The prices vary, but the smallest portion is 1580 JPY. The biggest one is 4,580 JPY, and it can be served to up to 5 people. If you order it, it will be made right in front of your eyes.
I advise you to book a table one or two days in advance if you want to go to this restaurant since it's quite popular.
The phone number is 018-801-2345.
The address is Midoriya Building 1F 2-7-6 Nakadori Akita City, Akita Prefecture.
You can also book it online.
It's open every day of the year, from 4:00 PM to 1:00 AM on workdays. On Sundays, it's open from 11:30 AM until 1:00 AM.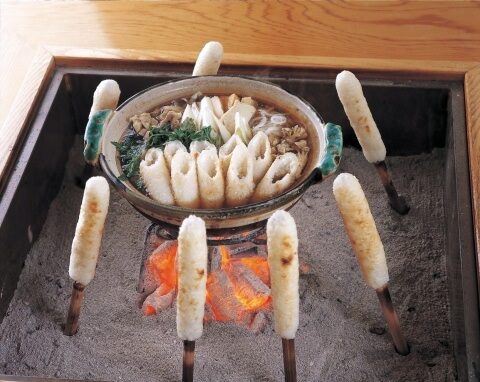 Akita Hinai Jidoriya
If you have to wait for a train or a shinkansen, why don't you kill time by looking for a good place to stay and eat something delicious? One of the most recommended restaurants in Akita is this one, and it's located on the 3rd floor of the train station, although some travelers claim that it's not so easy to find. The food and service are highly satisfying, and here you can enjoy a fresh, delicious kiritanpo soaked in broth with soft and tender slices of hinajidori chicken for the price of 1,800 JPY. It has even won a certificate of excellence in 2019.
The address is 7-2-1 Nakadori, Akita Akita Prefecture.
It's open from 10:00 AM until 10:00 PM on workdays and the last order is taken at 9:00 PM.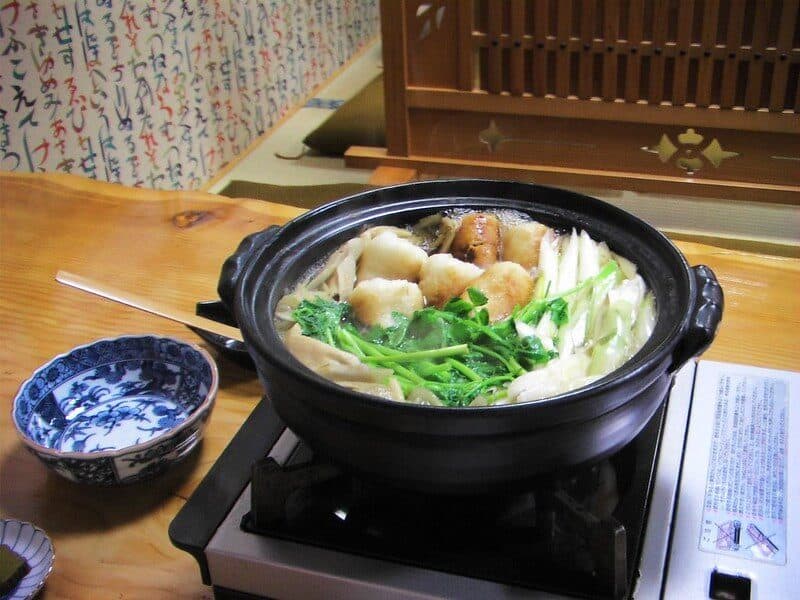 Tazawa Kogen Hotel
If you choose to stay in a hotel, you should think about the Tazawa Kogen hotel. Not only are you able to enjoy their excellent service, but also to relish a great view of beautiful mt. Komagatake.
Here you can try Kiritanpo as well, which is on the hotel menu. It's full of aroma, and it's also cooked at a fireplace. It's recommended by both travelers and locals.
The address is Komagatake2, Tazawako Obonai, Semboku-shi, Akita, 014-1201, Japan, and the phone number is +81-187-46-2311.
Dinner and breakfast are included in the price.
Breakfast is available from 6:30 AM to 9:00 AM, and you can have dinner from 6:00 PM.
Akitasugi
This is another place where you can enjoy kiritanpo, but since it's not so spacious, you should book a table in advance. The phone number is +81 18-824-6566.
The average price of a single meal is around 4,500 JPY, and the address is 3-2-37 Omachi, Akita 010-0921, Akita Prefecture.
Namahage Ginzaten
If you want to experience something authentic and fun, especially something related to Japanese folklore, then this place would be a perfect choice of yours. The interior is based in the manner of a Japanese hut, and as soon as you come in, there is a red demon from Japanese folklore (oni) to greet you. Kiritapo here is fresh, but the portions are not too big. Also, every hour, there is a mini-show, where the red demon walks around and interacts with the diners.
It's located on the 9th floor of the building in Ginza.
The exact address is 8-5-6 Ginza, Chuo 104-0061 Tokyo Prefecture.
To book a table, call +81 3-3571-3799.
It's open from 5:00 PM until 11:30 PM.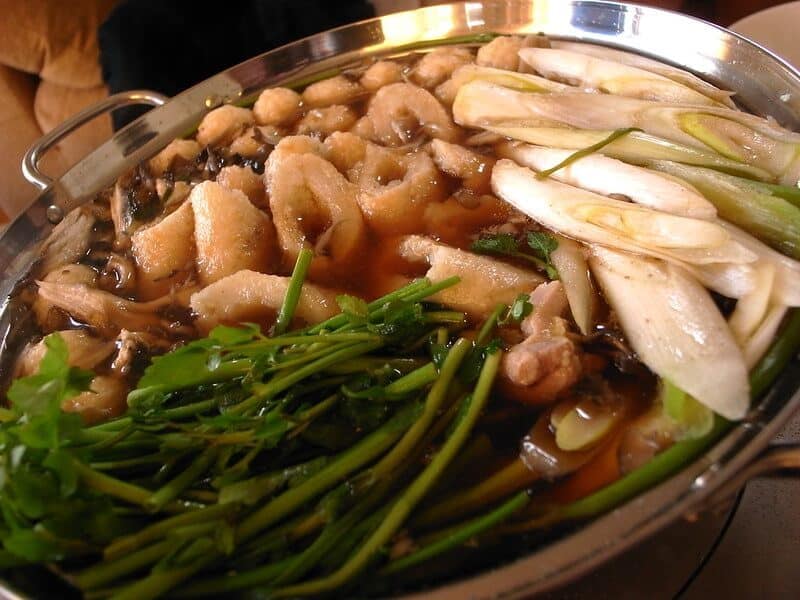 Masaki
This place is not so far away from Kitasenju station, and it's worth coming. Here you can eat a great kiritanpo nabe with yakitori, combined with other fresh ingredients. The price of one serving is 1800 JPY and you can get the chicken meat upgraded for an additional 500 JPY.
The address is Wakaba building2F Senju2-43, Adachiku, Tokyo.
The phone number is +81 338 – 823408.