CITY : Towada City click here for more information about this city

PREFECTURE : Aomori prefecture click here for more information about this prefecture
Towada City's Soul Food
In Towada City there is a famous dish that can only be described as being the soul food of this city. Towada Barayaki translates as "Rose Bake". It is a simple meal that consists of beef and onions, served on a sizzling hot plate of iron. It is a meal that can be cooked at home, however, to appreciate the full taste of this meal you really should visit Towada City and its restaurants, once there you will appreciate that Towada Barayaki is much more than just beef and onions on a burning hot iron plate.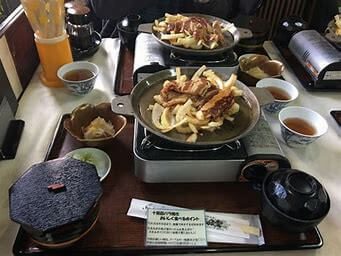 A serving of Towada Barayaki cooking at the table
Origins of Towada Barayaki
The concept of rose baking did not originate in Towada, it began in Misawa City, also in Aomori Prefecture after WW2 had ended. Misawa was a US military base, at that time beef was expensive so a food stand outside the military base used the cheaper cuts of beef to create a meal for locals and the visitors from the USA. The dish was created from trial and error and its popularity quickly spread to Towada City. Friends and family would gather around the iron plate to chat and share a meal. There are now more than 60 stalls and restaurants selling this dish in the city. It is popular among children right up to the elderly and is regarded as soul food for the citizens of Towada.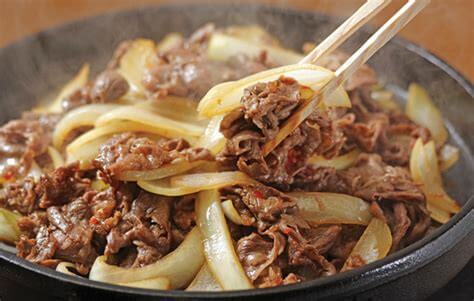 Eating Towada Barayaki with chopsticks
Eating and Enjoying Towada Barayaki
I would like to share with you my first experience of eating "rose bake", I had the choice of two sauces, sweet or spicy, I chose the sweet option. Before very long I had a hot sizzling iron plate in front of me which was full of meat and onions. It had been placed on a small burner set into the table. I guess the best way of describing this is if you imagine you have your own barbeque set up at your table. You should keep stirring the meat and onions as this is an important technique in ensuring the meat is cooked sufficiently throughout while at the same time not overcooking it. The sweet taste of the onions, together with the sauce combines to flavor the meat to perfection. It is best to try to set the meat on top of the onions and not allow the sauce to remain on the iron plate. If the sauce remains in contact with the sizzling plate for too long it may caramelize, so it needs to be stirred regularly. As the "rose bake" cooks you will notice a sweet and savoury fragrance in the air around you. Now you can sit back and enjoy tasting this dish. Pick up your chopsticks as it is time to eat this delicious meal.
Where to eat Towada Barayaki
Towada Barayaki is cheap and readily available throughout the city of Towada. Here are some of the best rose grills to be found in the city.
Rosie Baked Popular Cafeteria
This rose grill is located close to the Contemporary Art Museum and a dish of Towada Barayaki costs 700 yen. This includes rice, a bowl of soup and pickles. You are sure to leave here having eating a satisfying meal and with a full stomach.
Address: 15-3, Inage-cho, Towada-shi Art station Towada.
Phone number: 080-6059-8015
Closed on Monday's
Open from 7.30am until 11pm.
Red Goodwill
In this rose grill if you ask for the "set meal" you will receive rice, miso soup and kimchi in addition to your serving of Towada Barayaki. There is a Korean feel to this grill with the kimchi. The sauce on the barayaki is sweet and spicy, it tastes delicious. It can be very busy and because of this the level of service may not be as good as at other locations, despite this Red Goodwill has a good reputation for the food it serves.
Address: 2-1-23 Chuo-machi, Misawa-shi (2.3km from Misawa station).
Phone number: 0176-53-3456
Closed on national holidays and the hours of opening are unknown
Jinlian Restaurant
The Jinlian describes itself as the city's specialty rose grill. It serves a sweeter version of barayaki and costs from 500 yen. They also serve sweet potatoes or you might want to try their dish of pigs tongue costing 500 yen.
Address: 21-9 Nishiichiban-cho, Towada-shi
Phone number: 0176-23-4967
Open all year round, daily from 5pm until 11pm.
Oosho Garden Eatery
The sweet sauce added to the beef and onions to make barayaki can be enjoyed with a beer at this rose grill. The Oosho garden dining hall can be found at:
Address: 16-8 Inawashi-cho, Towada-shi
Phone number: 0176-23-4413
Open on weekdays from 10.30 am until 8.30 pm.
Towadako Wagyu Beef Kagurazakan
This rose grill is ideally located after you have visited Hirosaki Castle and walked along the Oirase stream. It has a good atmosphere where you should enjoy your dining experience in the evening.
Address: 91-2 Hiratsuki Ippokizawa, Towada-shi
Phone number: 0176-25-3605
Website: http: //www.citydo.com/prf/aomori/guide/sg/990046271.html
Closed on Wednesday's, open from 11am until 10pm.
Rose Grill Shop Fuji
This rose grill specializes in lamb and not beef. It uses the same principles of the barayaki with a sweet sauce and onions, just using lamb instead of beef.
Address: 18-40 Inago-cho, Towada-shi
Phone number: 0176-25-8089
Oirase Stream Tourism Center
While visiting the Towada Hachimantai National Park and sightseeing around Towada Lake and Oirase Stream you might want to have lunch at the visitor center where they serve a rose grill set meal. If you prefer you could also try some locally caught fish, particularly rainbow trout.
Address: Towada City Omote Okusecho Tochiguko 11-12
Phone number: 0176-74-1121
Open daily from 11am until 3pm
Towada Drive-in
If you prefer a drive-in style meal for your Towada Barayaki then this is the place for you.
Address: Towada-shi, Ohki Osawa Denji Kitano 210-3
Phone number: 0176-27-2622
Open from 11am until 3pm and from 5pm until 7pm
Kamikochi Shokudo
In addition to the conventional style of barayaki you might want to try the variations on offer here of sweet tasting duck and onions, it is said to taste similar to sukiyaki. They also serve a curry and rice.
Address: Daikoku Quantum Shimoyama 64
Phone number: 0176-74-2418
Towada Shokudo
Why not enjoy a gourmet rose grill when visiting Towada Lake?
A set meal of barayaki complete with an appetizing spicy sauce is available at this location.
Address: Okuse Towada Lakeside 486
Phone number: 0176-75-2768
Towada Lake Sanso
This rose grill is located just 20 meters from where Aomori prefecture ends and Akita prefecture begins so you can enjoy food from both. In the peace and tranquil surroundings of the countryside it is not unusual to see a bear or watch salmon swimming in the lake.
Address: Okuse Towada Lakeside 294
Phone number: 0176-75-2710
Horse Meat Cooking Yoshinori
Now this might not be to everyone's taste but Towada city is also famous for its production of horse meat. A horsemeat hot-pot complete with vegetables is considered a delicacy of the city. In addition to the traditional barayaki there is a horse meat barayaki, or you can have a combination of the two.
Address: 15-4 Nishi Sanbancho Towada-shi
Phone number: 0176-24-9711
Closed on Sunday's, open from 11am until 10pm.