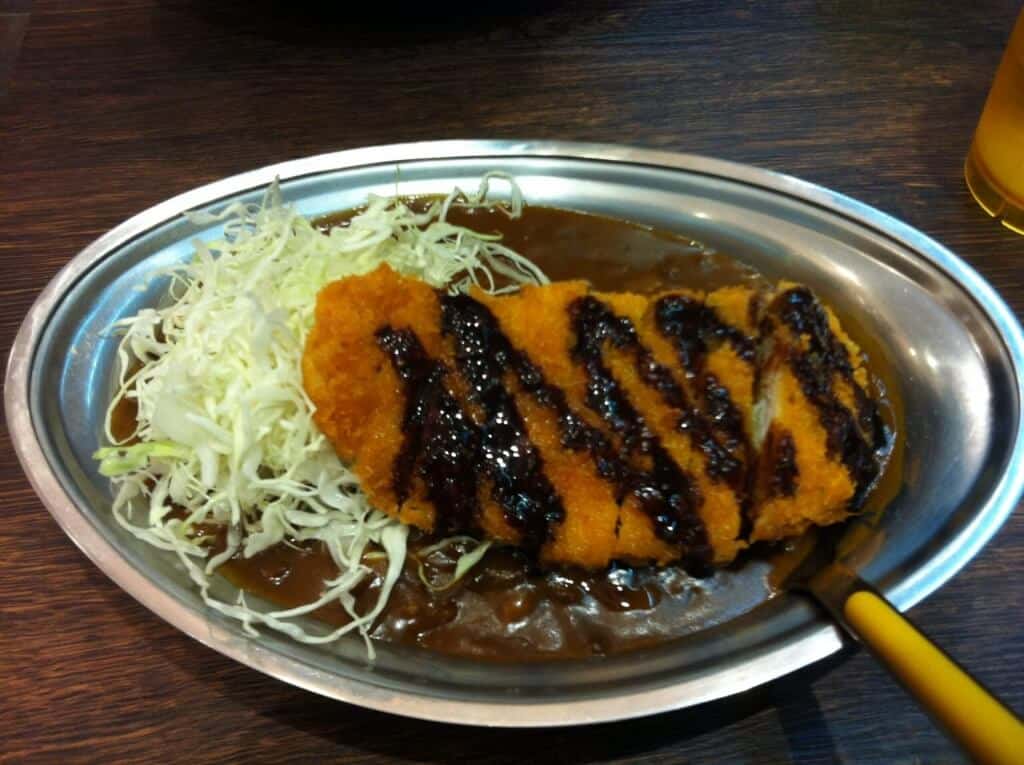 The Sweet Curry From Kanazawa
The term "Kanazawa curry" has only caught on recently, around 2005. It is also hard for some to explain what it really is, but here it is. To begin with, it is a curry rice meal that has unique characteristics found in curry rice shops in Ishikawa Prefecture, but mostly Kanazawa City. This prefecture loves its curry and there is no shortage of curry shops. The people of Kanazawa have style and it shows in this deliciously rich dish. It has become a part of the Japanese western culture.
Features of Kanazawa Curry
The sauce is always one of the most important parts of a curry. The sauce for Kanazawa curry is thick and gooey, made from things like caramel. It is always a dark color. There is always shredded cabbage served on the side of the dish. Pork cutlet will be placed on top of the curry and then tonkatsu sauce is placed on top of the cutlet. It is a volcano like image with the sauce covering the entire mountain of rice. It is part of the style to completely cover the rice. Giving this curry more of a unique style is the stainless steel boat-shaped dish that it is served on. People dig in with a fork or a spork. The taste is sweet and rich in flavor.
History behind this specific curry
This curry does not have a long history like a lot of local food. It was only recently being trademarked in 2007 around. The restaurant chain, Curry Champion, is known to be the original Kanazawa curry store. You can find more about this popular restaurant further down. The Kanazawa curry is considered western-style curry and the overall style seems to have dated back to around 1963. In the end, Kanazawa curry seems to have a confusing and complicated history.
The durable stainless steel plate for fast delivery
The plates that Kanazawa curry are served on are famous. In a fast-past deliver business like the curry business, a strong and hard to crack plate was needed. This specific tableware lasts a long time and are easily portable. Curry is fast to make and very popular. If you want to have a fast and delicious meal, Kanazawa curry is perfect.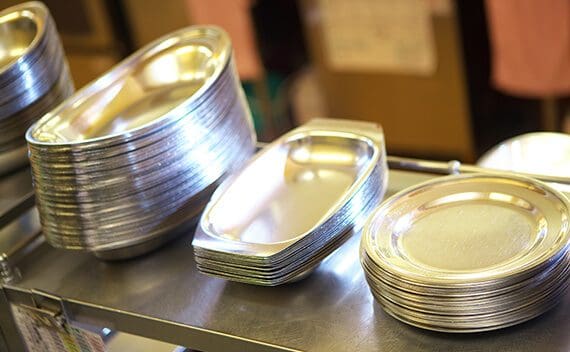 What shops to try Kanazawa Curry at
If you are on a curry adventure, then stopping in Kanazawa for this specific curry is a must. It is a curry that is not well known outside of Japan, but you can find many places serving it in Japan. Not just popular in Kanazawa, but other places too. If you can not make it to Kanazawa, even the famous place of Akihabara serves it in some of their restaurants. Here are some of the restaurants that are great for anyone looking for a bite of Kanazawa curry.
Champion Curry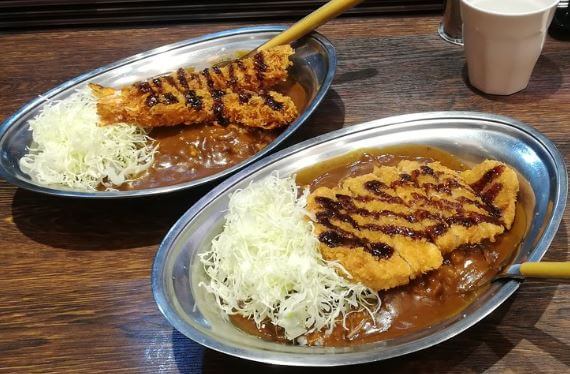 This restaurant has taken the title of the true authentic Kanazawa curry. Champion Curry are curry experts, and the main store was founded 50 years ago. It is highly rated and popular restaurant. A go to place for Kanazawa curry eaters. The Kanazawa curry variations of L Katsu Curry and Shrimp Fry Curry are the most popular orders. They have other types as well of course. It is a convenient place that many find themselves in when looking for Kanazawa curry. You easily order the curry outside, on a machine. You look at the pictures of curry and click on which one you want. After paying you get a ticket from the machine that you bring to the store staff. It will not take long till the curry is in front of you. It is a quick meal with great value and delicious taste.
Address: 88 Aokusamachi, Kanazawa 920-0907 Ishikawa Prefecture
Phone number: 81 76-255-2353
Hours: Every day from 11:00 am to 8:00 pm
Go-Go Curry

This one is another popular chain of restaurants that is known for Kanazawa curry. They claimed to be the spark of the Kanazawa curry popularity. Together, Champion Curry and Go-Go Curry are the most well known places for this dish. Some people prefer one over the other, but both are great and are must tries for the true Kanazawa curry experience. At Go-Go Curry they really take their time and put in a lot of effort into their food. Their food ends up delicious and their curry may be a little spicier then other chains. They do have a kids plate that is not spicy. It is a convenient location near Kanazawa station and also uses a machine to take the orders.
Address: 1-1 Kino Shimbomachi Kanazawa Hyakubangai Anto-Nai, Kanazawa 920-0858 Ishikawa Prefecture
Phone number: 81 76-256-1555
Hours: Every day from 10:00 am to 10:00 pm
Gold Curry Musashimachi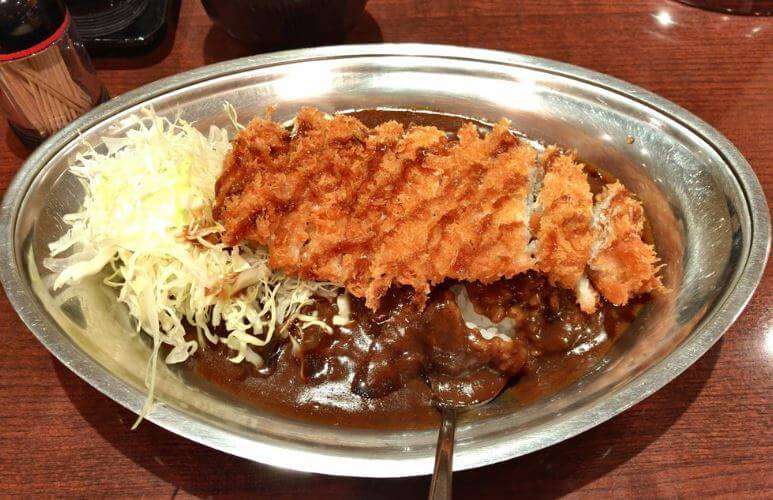 A nice shop that focuses on local ingredients. The taste here is said to be uniquely sweet. The sweetness improves the overall deliciousness of the curry. They serve a variety of Kanazawa style curry that you should not pass on trying. A great choice to try Kanazawa curry for the first time with excellent value. English readers can appreciate the menu also being written in English. A great stop while shopping, as it is in the basement of a shopping center. Sometimes feels more welcoming to go to a shop in a center rather than a street restaurant.
Address: 15-1 Musashimachi B1F Meitetsu Emuza, Kanazawa 920-0855 Ishikawa Prefecture
Phone number: 81 76-234-0634
Hours: Everyday from 11:00 am to 9:00 pm
Kitchen Yuki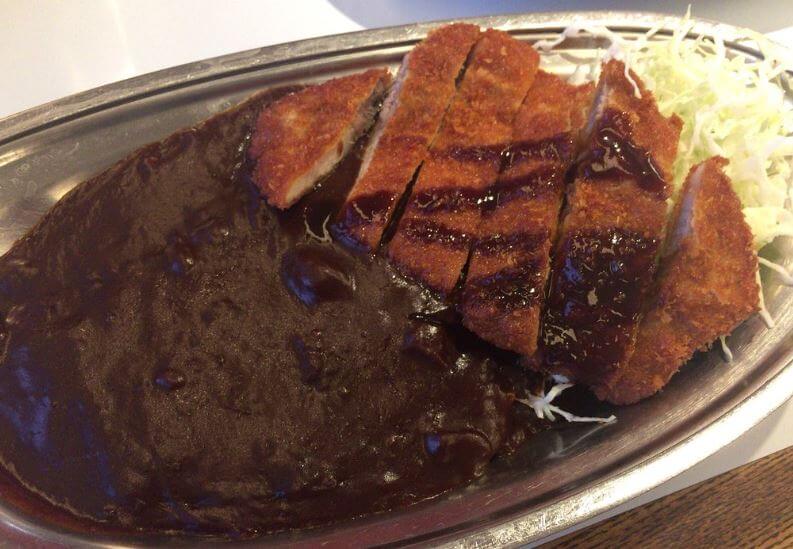 All the Kanazawa curry starts to look the same, but that is its identity. Here is another great shop where you can find the increasingly popular Kanazawa curry outside of Kanazawa. It is one of the most popular restaurants in Hakusan with high ratings. Known for western foods and the Kanazawa curry, many come here for that specific taste. It is a stylish place with a variety of stylish dishes. It use to be located in the underground shopping area of Kanazawa station, but now the main store is in Hakusan City. Holiday lunch hours can be busy because of its popularity, but it is worth the wait.
Address: 331-1 Komyomachi, Hakusan Ishikawa Prefecture
Phone number: 81 76-275-5946
Hours: Everyday from 11:00 am to 11:00 pm