Echizen Gani, or Snow Crabs are in plentiful supply during the season that extends every year from the 6th of November until the 20th of March. The crabs are given their name due to the coastline of Echizen from where these crabs are caught. The most treasured of these crabs are known as 'Zuwai Gani,' they are the only brand of this dish delivered annually to the Japanese Imperial Family.
One of the reasons the quality of the crab meat is so highly rated is because from the moment the crabs are caught, they are stored at a cool temperature on board the ships until they are brought ashore. The brown meat 'kanimiso' found in the intestinal areas and ovary can quickly lose its freshness if not correctly stored and this can equally lead to a loss in the rich taste the dish is famed for.
To distinguish the crabs from other species, each individual crab is fitted with a yellow tag to certify it was caught off the coast of Echizen to distinguish its origin. Large numbers of tourists, including some from abroad, arrive in the area at the beginning of each season.
The Kings of Delicious Seafood – Echizen Gani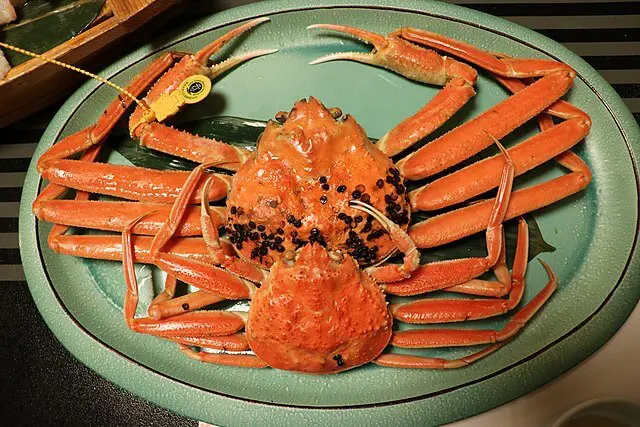 Echizen Gani has been described as the 'King of Delicious Seafood' due to its taste and quality and once you have tasted it once you will crave for it again. As the water temperature off the coast of Japan gets colder, the crabs put on extra fat against the cold. It is then that they are caught and brought to the table.
Carefully Cooked by Masters of the Art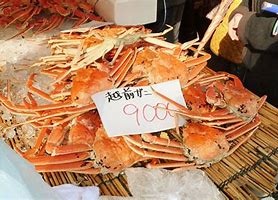 In addition to the environment in which the crabs thrive before being caught, there is also a great deal of skill involved in the cooking process requiring the utmost dedication and skill. Boiling requires adjusting the heat at the correct time and the correct amount of salt to be added to maintain the delicious taste of these crabs. There is a saying in Fukui Prefecture that it takes ten years for its fishermen to learn how to sense that a crab is a good one or not and it then takes a lifetime to master the correct cooking process. The cooks responsible for the boiling process are craftsmen of their art.
Three different names for the Echizen Gani
The male Zuwai crabs are called Echizen Gani, while female crabs are referred to as Seiko Gani or Mizu Gani. The female crab meat has softer meat after moulting. Each of the three has a different fishing period and its own distinct taste.
Methods of how they are cooked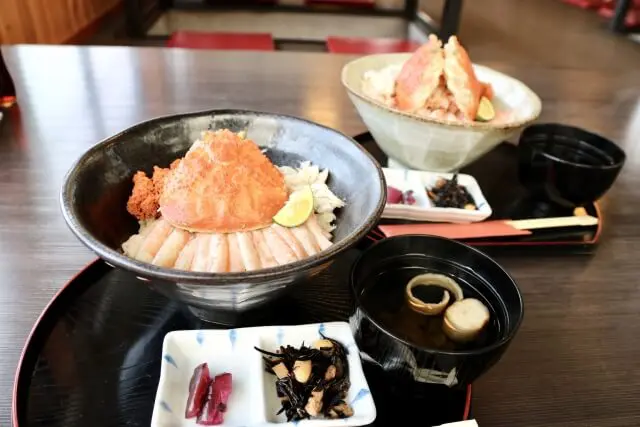 Generally, Echizen Gani are boiled, although there are various recipes that use other methods. Sashimi, is raw crab meat also known as kani sashi. Grilled crab is known as yakigani, while shabushabu, is a style of cooking using thinly sliced crab meat quickly boiled before being placed in a soy-based sauce. There are several local dishes perfected over the years by chefs, bringing a distinct or individual recipe to those restaurants that use these methods.


The Size of Each Individual Crab
Some of the biggest crabs can be up to 50cm in length, with a shell width of around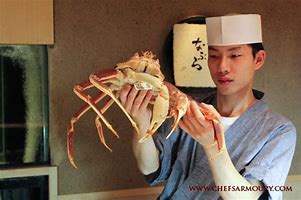 14.5cm and weighing up to 1.3kg. Female crabs are around half this size and costs are more reasonable than the larger males.
Events where you can sample Echizen Gani
There are several events where you can sample and buy this dish often at relatively cheaper prices than those charged in restaurants. These events include Echizen Wakasa Red and White Taste, held at Hapi Terrace. At the Aranami Festa held during December you can sample Seiko crab juice, while the Echizen Coast Daffodil and Crab Fair held just before Christmas has gifts and fisherman's pots on sale. Throughout the month of November, there are several festivals to be found, particularly during each weekend. During the weekends of March, two of the most prominent festivals are the Echizen Crab Thanksgiving Day and Mikuni Minato Crab Festival.


Restaurants Recommended for Echizen Gani
Yamani Suisan
Located in Tojinbo, one of the best scenic locations in Fukui prefecture, this restaurant offers more than just Echizen Crab among items on offer. You can also purchase souvenirs of your visit and personally select which crab you would prefer to eat from those on display. They also have set meals, ramen, single dishes or even make your purchase online and have it delivered.
Fukui Boyoro Aoyama Restaurant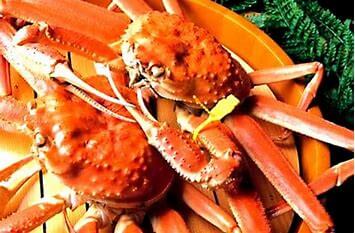 Echizen crab's Mikuni Port is located close to the fishing port which is famed for the point where crabs are brought ashore. There are some huge crab objects here in front of the Echina Railway Mikuna Awara Line and is popular with tourists. The Echina Crab Full Course is recommended, that way you can eat sashimi, grilled crab and boiled crab in the one visit. Visitors can also try seafood or a seafood bowl. The address is 1-16 Mikuni-cho, Sakai City, Fukui Prefecture. The restaurant is open from 11 am until 3pm and then again from 5 pm until 8.30 pm on weekdays. On Saturdays, Sundays and holidays it is open from 11 am until 8.30 pm with last orders taken at 7.30 pm every day. The restaurant is closed every Tuesday.
The average cost of a meal is from 2,000 yen up to 2,999 yen although ordering specialist items off the menu can cost in excess of 30,000 yen.
Boyoyoro
This restaurant has a long history and began as a shipping wholesaler during the Three Kingdoms Period. There was an inn here that was established in the Meiji era of 1868 until 1912. This was a historic cooking inn called Bouyourou. It is famous for its spectacular views across the Sea of Japan in addition to the exquisite Echizen Crab dishes served here. There is also a branch of this restaurant now open in Aoyama, Tokyo so visitors can taste the same delightful food without leaving the Japanese capital. It is recommended to book in advance as this very popular restaurant is usually very busy. The address of this restaurant is 4-3-38 Yonegawaki, Mikuni-machi, Sakai City, Fukui Prefecture. The restaurant opens daily from 11am until 2pm and then 4pm until 9pm with an average budget of a meal costing around 30,000 yen.
Takinokawa
Takinokawa is located along the national route 305 that runs along the coast of Echizen. Here you will find fresh local Echizen fish available throughout the year with the winter taste of Echizen Gani available during the season this dish is on the menu. Other dishes here include puffer fish and oysters. A full course is recommended to fully enjoy Echizen Crab with eight types of courses available. They begin with a trial course and extend up to the Echizen Country Main Course. The address of this restaurant is 16-19-2 Takasa, Echizen-cho, Nyu-gun, Fukui Prefecture. The restaurant is open from 11 am until 3 pm and then again from 5 pm until 10 pm every day. They have a reservation-only policy at weekends. The cost of meals here costs from 15,000 yen up to 29,999 yen.
Kobase
The culinary inn of Kobase is located along the coast of Echizen and offers spectacular views of the Sea of Japan. The restaurant is renowned for its exceptional quality and visitors from across japan flock here during the 'crab' season. Some meals here require a reservation, it is best to inquire in advance. If you wish you can stay here overnight and enjoy a breakfast of crab porridge. The restaurant's address is 58-8 Umeura, Echizen-cho, Nyu-gun, Fukui Prefecture. The cost of a meal here ranges from 15,000 yen up to 30,000 yen.
Seafood Restaurant Echizen
The Seafood Restaurant Echizen can be found where the road enters Echizen Fishing Port from the National Route 305. The restaurant is managed by the Echizen-cho fishery co-op. The Echizen Crab Set Meal is highly recommended and has options of A, B, C up to the full course and accepts large groups of people when booked in advance. It is a convenient place to stop while driving along the coastal road.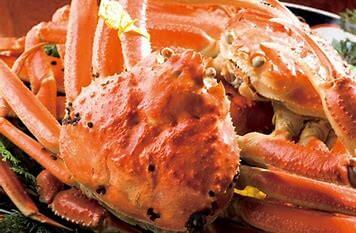 History of Echizen Gani
In a diary written by Sanjo Nishitaka dated March 20th, 811AD, during the Azuchi-Momoyama era. The high-ranking official in Kyoto mentioned Echizen crab in his writing. This is believed to be the earliest recorded use of the term although it was eaten before that time it is unknown at what time crab became a popular dish. The yellow identifying tag was adopted in 1989 to distinguish authentic local crabs and to prevent inferior crabs being used by unscrupulous restaurants.